10Cric Review: Is It a Good Betting Site?
10Cric is an "old" online betting site that specializes in cricket betting, but it also offers other sports betting markets. Although majorly a betting site, 10Cric also boasts a vast amount of casino games for casino lovers.
Their brand ambassador, Chris Gayle, is a former Indian Premier League cricketer, with whom 10Cric has collaborated to thrive. With Chris Gayle as the brand ambassador, 10Cric has established itself as a top-rated, first-class cricket betting site for Indian betting enthusiasts.
Whether you are a professional bettor or are new to the betting world, 10Cric has something for you. The site has quite many features that many users stand to gain from, including the offer of a contemporary betting platform.
Furthermore, 10Cric offers convenient payment methods, exclusive bonuses, promos, and superior cricket live betting experience for Indian bettors. Thus, if you reside in India and want to enjoy the best cricket betting in the country, 10Cric might be your best option.
Is 10Cric Legal to Use in India?
We understand how strict India's laws are when it comes to any form of gambling, although the laws don't mention online betting. Moreover, despite the country's strict laws, there are still dozens of land-based casinos and betting shops operating freely in India. Nevertheless, many Indian players are afraid to bet and gamble for fear of being caught, which has great repercussions.
However, not to worry, because 10Cric is based in India, it is legal to use in the country. While they market themselves toward Indian players, 10Cric is more or less an international betting site. More so, 10Cric has several solutions, particularly for Indian players, than many of the other big international betting brands.
Some of the issues that arise with India's strict gambling laws include difficulty to deposit from and withdraw from Indian banks. However, 10Cric, due to its many years of operating in the country, has worked its way around many of the issues.
Nevertheless, there is still a possibility of encountering problems when transacting with certain Indian banks through 10Cric. It is best to double-check your bank's terms before carrying out the transaction or, better still, rely on alternative payment methods.
Provided you are smart about how you use the betting site, you should not have any problems. However, generally, 10Cric is absolutely legal to use in India. Additionally, remember that you must be at least eighteen years old to be able to register an account with 10Cric. The site will require that you verify your identity before it lets you start using its features.
Is 10Cric Safe for Indian Players?
We do believe 10Cric is a safe betting site for Indian players; it has strict security measures in place. Every Indian player that is regular on the platform will tell you that 10Cric is completely safe to bet at.
The brand is licensed and regulated by the government of Curacao for sports betting. 10Cric is very serious when it comes to the security and safety of its players and their funds.
As such, the site uses advanced technology to run the site, ensuring that players' information and transactions are safe and secure. Moreover, the online betting site is one of the most trusted and secure sites available to Indian players. Furthermore, 10Cric has been around for many years; it used to be known as Betrally in India before it rebranded. As of today, 10Cric has thousands of satisfied, happy customers in India and across the globe.
Overview of 10Cric Bonus
| | |
| --- | --- |
| Turnover time | 7 |
| Odds | 1.8 minimum |
| Bonus code | WELCOME |
| Currency of bonus | Indian rupees |
| Bonus amount | INR 100,000 maximum |
| Bonus expiration time | 90 days |
| Deposit | INR 1,000 minimum |
10Cric screenshots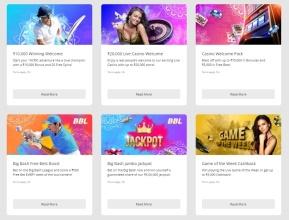 Review of 10Cric: Is It Worth the Hype?
10Cric is an international online betting platform and brand with a strong focus on the Indian betting market. The site offers a user-friendly and unique sportsbook that is replete with many cricket betting options.
Although it is majorly a cricket betting platform, it also has a wide range of betting options on other sports. Additionally, 10Cric has a superb live betting platform and a cool online casino that every casino lover should check out.
10Cric has been especially dedicated to the betting style that Indian bettors are used to. Thus, the sportsbook is not just optimized for Indian players; its casino games accommodate all kinds of games Indians love to play.
If you're interested in this online betting site, we have put together this comprehensive, objective review of 10Cric. In the review, you will see what we like about the website and also what we do not like.
Why We Like 10Cric
There are many things we like about 10Cric, and below are some of them:
Exclusively Open to Indians
We love how 10Cric is exclusively available to Indian punters. 10Cric is one of the very few betting sites that understand and value Indian players. Some of the proof of this value include the fact that the site is highly focused on cricket betting and accepts UPI. Cricket is the most popular sport in India, while UPI is the most preferred payment method by Indian players.
Besides, 10Cric wouldn't be so admirable if it didn't have the country's most convenient payment methods: UPI and Indian Netbanking. Meanwhile, if you are a cryptocurrency enthusiast, considering that cryptocurrency is becoming more popular in India, 10Cric also offers this option. Additionally, 10Cric provides customer service through the telephone to Indian players for easy lodging and addressing of complaints.
Huge Selection of Cricket Betting Options
We have mentioned over and over how 10Cric, as its name implies, is primarily dedicated to the cricket betting market. If you are a lover of cricket betting, which you probably are since you are here, 10Cric offers great opportunities for you.
The international online betting site is a great place for you to hone your skills and live out your passion. On the website are cricket matches from across the globe that you can wager on, including the IPL, ICC World Cup, and more.
Additionally, there is a news section about the Indian Premier League on 10Cric that keeps you updated about current events. This section is particularly amazing if you want to give yourself the best possible likelihood of winning your IPL wagers.
One other thing that makes 10Cric stand out among others is that it offers new promotions regularly. With 10Cric's promos, you can spice up your betting experience and up your chances of winning bets and making profits.
10Cric offers many different promotions, the most popular being the boosted odds; there's a part in the sportsbook where they are listed daily. Boosted odds allow you to increase your profits, making them a great way to increase your value as a player.
10Cric also has an outstanding live betting experience awaiting you, including cashouts and live match renditions. There is no live betting feature a punter wants that is not available on the 10Cric online betting platform.
The site's live betting section is especially great for big events like the Indian Premier League, offering the most immersive betting experience. Furthermore, there are live updates and many betting options that make 10Cric the perfect choice for live betting.
Amazing Online and Live Casino
Although 10Cric is largely known for its massive cricket and other sports betting options, the site also offers online live casino offerings. Meanwhile, don't get it wrong, that the site is majorly focused on cricket does not mean other sports and games are neglected. On the contrary, the site offers great online and live casino offerings that every casino lover will appreciate.
There are a variety of fun casino games on 10Cric that you can choose from, live or otherwise. The site has high-quality slots, card games, blackjack, table games, roulette, and many more immersive casino games. What's more, 10Cric even offers exhilarating lottery games and wheels of fortune that can help you try your luck.
User-Friendly, Efficient App
The great betting experience 10Cric offers is not limited to the web; you can also get it on your phone. The brand has a quite neat setup for app users; thus, if you prefer using mobile apps to bet, you will love this. Furthermore, the 10Cric software application is available on iOS and Android devices, making it a very accessible, multi-platform application.
Why We Don't Like 10Cric
We have to admit, it was pretty hard to pick one downside to the 10Cric betting platform. Nevertheless, there are certain offerings and features we believe a betting platform like 10Cric should have that it doesn't.
10Cric does not offer horse racing betting options, which some may not care about but can be a big deal for others. Furthermore, considering that horseracing is also quite popular in India, it doesn't feel good knowing that 10Cric doesn't offer it.
If you prefer to bet on horse races, you may want to consider another high-quality, top-rated betting site. Still, we believe this is something the 10Cric team will work on amending soon.
Esports Betting Options Not that Great
10Cric offers great esports betting options, but they are not that great – not for a site like this at least. This is a serious one considering that the popularity of esports in India has been rising astonishingly.
With the rise of exports comes the rise of esports betting; we hope 10Cric can take advantage of this opportunity. If the site incorporates esports betting into its already large offerings, we are sure it will be a welcome change for esports punters.
10Cric Review: Our Final Verdict
We conclude that 10Cric is a unique betting site with great offerings to provide an awesome betting experience for Indian punters. The site has a sportsbook that appeals to the Indian betting market, including cricket and a variety of international sports.
Furthermore, the brand's sportsbook offers hundreds of different bets and combinations to ensure you have many options. Meanwhile, if you love casino games, 10Cric has an amazing online casino with high-quality games the industry has to offer.
Considering the pros and cons of the betting site, you have to agree with us that the pros outweigh the cons. That is why we recommend 10Cric to punters at all experience levels, casual or experienced.
The site has many amazing features to offer, including a large sportsbook, an impressive live betting section, and more. The most amazing feature on 10Cric has to be its generous Welcome Bonus, where you can earn up to Rs. 30,000.
How to Register on 10Cric
Now that you've learned some things about 10Cric, you're probably eager to sign up and create an account. Thankfully, signing up on 10Cric is pretty straightforward, taking only about two minutes; that's another great thing about the site.
Below are the steps involved in opening an account at 10Cric on the website and the application.
On the Website
Start by opening the official 10Cric website;
Next, find your way to the top right corner and click on the "Join Now" button;
Then, follow the prompts and fill the blanks with your details;
When you're done imputing your details, provide your contact information and then fill in the account information section;
Next, create your username and password; if you have a promo code, enter it in the designated area;
Remember that you have to be at least 18 years old to register; if you are, accept the terms and conditions;
Finish up the registration process by clicking on "Create My Account," and you are done.
Some information 10Cric will need from you includes your full name, contact information (phone number), email address, date of birth, and login details.
On the Mobile Application
First, download the 10Cric app and install it on your device; 10Cric offers different mobile apps for Android and iOS;
When you are done installing, launch the 10Cric app, and then press the "Join Now" button;
As in the website version, fill in all the information in the appropriate boxes and press "Create My Account" to finish the process.
Before you open an account with 10Cric, we recommend going over the terms and conditions. This way, you can weigh them to see if they are not too burdensome for you and if you can follow them.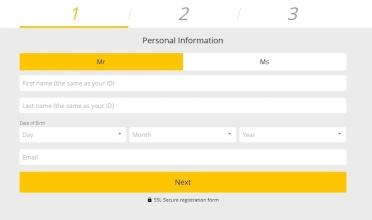 What Payment Methods Does 10Cric Offer?
Considering that 10ric is exclusively open to Indian players, it makes sense that the deposit methods are easy for Indian players to use. The site has ensured that the payment methods it provides offer Indian players convenient deposit options. For instance, you can deposit directly to your Indian bank account through an instant online bank transfer (Netbanking).
Below are all the deposit options available on 10Cric that you can use:
UPI,
eZeeWallet,
PhonePe,
VISA Card,
Neteller,
AstroPay
Cryptocurrency, and
Indian Bank Transfer.
However, the issue with the payment methods is that some of them don't offer withdrawal options. To put it precisely, only Mastercard and Visa cards give you withdrawal options.
In addition, to be able to deposit funds successfully, you need to meet the minimum amount to deposit. The minimum deposit amount typically ranges from 500 to 1,200 Indian Rupees, depending on the payment method you choose.
If you have an Indian bank account, 10Cric enables you to make deposits with your account. Simply make a transfer to 10Cric's Indian bank account and the money will be deposited into your betting account. Very few betting sites offer this level of convenient depositing options for Indian players.
How to Choose the Best Payment Method on 10Cric
Despite the great number of payment methods 10Cric offers, you'd be surprised to find that not all of them are suitable for you. To choose the best deposit method on 10Cric, you need to consider withdrawal and deposit wait times.
That is, you should consider how long it will take for your account to be funded when you withdraw or deposit. On 10Cric's side, the payment methods are fast and reliable; the site knows the importance of fast payment with certain games.
Nevertheless, before you pick just any payment method and start making transactions, you want to ensure you choose the best one. The deposit method you choose should be one you are comfortable with and that you fulfill all its requirements. This cautious check is necessary to avoid having delayed payments on 10Cric, which can ruin your gaming experience.
Does 10Cric Offer a Welcome Bonus?
10Cric offers new players who deposit on the platform a generous and nice welcome bonus. Its bonus is one of its outstanding features; it offers up to Rs. 1 lakh bonus for your first three deposits.
How Does the 10Cric Welcome Bonus Work?
The welcome bonus pack on 10Cric comes in three packages:
The first package: You get a 100% bonus on your first deposit, which is up to Rs. 30,000, and ten Free Spins.
The second package: You get a 100% bonus on your second deposit, which is also up to Rs. 30,000 plus ten Free Spins.
The third package: You get a 50% bonus on your third deposit, which is up to Rs. 40,000 plus twenty Free Spins.
Thus, altogether, you get a 10Cric welcome bonus worth 1 lakh over your first three deposits on the platform.
How Can You Claim the 10Cric Bonus?
Claiming the welcome bonus on 10Cric is straightforward; just go to the official website. Then, click on "claim your bonus"; you will be prompted to create a new 10Cric account if you don't have one already.
Therefore, open an account, and then deposit 1,000 Indian Rupee to your newly opened account. Before you finish the depositing process, remember to type in the bonus code to get your welcome bonus.
What Is the 10Cric Bonus Code?
10Cric has three different codes for the three welcome bonus packages. When you make your first deposit, use the bonus code "WELCOME" to unlock the first bonus. For the second deposit, the code to use is "WELCOME2" and then "WELCOME3" for the third deposit welcome bonuses.
Meanwhile, the bonus code comes with some terms and conditions that users must adhere to, to obtain it. First off, the bonus is only available to those who have never deposited funds on the 10Cric platform. Also, the minimum deposit that qualifies for the welcome bonus is Rs. 1,000. In other words, you have to deposit at least Rs. 1,000 into your account to obtain each welcome bonus package.
Furthermore, to withdraw the bonus, you need to bet or wager the bonus amount seven times at odds of at least 1.8. Last but not least, the bonus is valid for ninety days, after which you will be unable to use it. With this welcome bonus that 10Cric offers, you can earn up to 100,000 Indian Rupees on your first deposit.
Games and Features of 10Cric
10Cric offers countless different games and amazing features that make betting on the platform worth it. Upon entering the official website, you will discover that 10Cric is particular about Indian players. You can find the Indian flag adorning the site's logo at the screen's top left corner. Additionally, on the front page are currency denominations, and they are all Indian rupees.
Furthermore, 10Cric offers promotions that are related to top Indian sports such as kabaddi and cricket, among others. All of these features point to the fact that 10Cric is more focused on the Indian betting market.
The most popular sports that 10Cric offers betting options for include cricket, kabaddi, tennis, football, and basketball. You can find all of these sports listed on the left side of the site's front page.
Furthermore, your bet slip is located on the right-hand side of the screen; you can use this slip to adjust your bet. You can also make accumulator bets on 10Cric; accumulator bets refer to the act of linking several bets together.
Making accumulator bets give you a chance to make higher profits; you can find your potential profits at the bottom of the slip. Also, when you scroll down the website's front page, you will see the sports that are live at the moment.
These sports are located directly in the center of the screen. Meanwhile, you can also go to "Upcoming" to see matches that are yet to start but for which dates have been set already.
Furthermore, the live function of 10Crics gives you the opportunity to enter a live match at any time. While 10Cric is a cricket betting site, you can also bet on many other sports. 10Cric offers up to forty different sports, which is quite high compared to some world-class betting sites. These sports include India's national sports as well as all the popular European sports like football, ice hockey, handball, and cricket.
Meanwhile, there are some games on 10Cric that are hard to find on other betting sites, including chess, surfing, and esports. When you're on 10Cric, you may discover an interest in another thing that is not in your normal interest sphere.
Another outstanding feature of the 10Cric website is that it has a section dedicated to power odds. Power odds are those games that have their odds boosted, whether through a T20 game or another way.
10Cric Casino
If you prefer table games or slot machines, you don't have to look for another casino to play at. 10Cric also offers a fantastic casino section apart from the vast amount of sports and games to bet on. As soon as you enter the casino section, you will see some of the most popular games listed there. They have great games for a cricket-based betting site, although its games are not from the bigger providers.
Although most of the games on 10Cric are from less known companies, they do appear to be high-quality games nevertheless. 10Cric casino gives you a chance to win the big jackpot; the site has some great jackpot games, some reaching millions of dollars.
To view all the slot machines offered on 10Cric, you only need to click on "Slots" on the website. 10Cric has exactly 466 slot machines, which is pretty high, and there are different selections.
Whether you are a professional casino player, new to casino games, or are a great player who only plays occasionally. 10Cric has amazing casino slots and games for everyone. If you navigate your way to the "Jackpot Slots" button and click, you will see all 24 jackpot slots available on 10Cric. One of these is the popular jackpot slot, Mega Moolah, known for its ridiculously high payouts and jackpots.
Players have already won millions of dollars from playing Mega Moolah, and the number keeps rising. Apart from Mega Moolah, there are several other jackpot slots you can play and win big, depending on your strategy.
Leaving the jackpot slots and heading to the table games, we found an incredible amount of different table and card games. 10Cric has all the table games every casino player could wish for, including Roulette, Blackjack, Baccarat, and Poker. There are over one hundred different tables to play at, which is exciting if you love playing casino classics.
These casino classics mentioned are available at the 10Cric live casino; the live casino is way better than we imagined. 10Cric has up to twenty-six different tables with live dealers standing ready to serve you all day, every day.
Besides the casino classics, there are also wheels of fortune, Sic Bro, Dragon Tiger, and a lot more immersive slots. Even if you only want to take a look, we can assure you that the 10Cric live casino is worth looking at.
Moreover, let's not forget the great welcome bonus 10Cric offers; they also come with casino games. More so, the 10Cric casino offers some of the biggest welcome bonuses that we have seen in other casinos.
How Can You Claim the 10Cric Indian Casino Bonus?
This casino bonus is only offered to Indian players; it gives you all the cash needed to get started playing casino games. To claim the bonus, you only need to go through the following simple steps:
First, you must have created a 10Cric account to be able to claim the bonus.
After creating the account, deposit at least 250 Indian rupees into the account.
If you have an account already with the required amount, log on to the website and find your way to the "Claim bonus" button.
When making your deposit, use the bonus code "CRICLIVE," and you'll get up to 150% of your deposit. You can get up to 20,000 Indian Rupees, depending on how much you deposit.
However, certain terms and conditions apply before you can get this bonus:
You have to be resident in India and must have deposited at least 250 Indian rupees into your account.
Don't forget to type in the corresponding bonus code when you are funding your account to get the bonus.
How Do You Bet on 10Cric?
Once you have created and funded your 10Cric account with the required minimum amount, you can start thinking about betting. The match you are betting on does not affect the betting process. Thus, whether you're betting on cricket matches or another, you can bet on 10Cric in the following steps.
Step 1: Choose Your Sport
Go to the sports directory on the left side of the website to choose the sports you want to bet on. If you want to bet on football, for instance, you will see "football" on the list; choose the sport.
Choosing the 'football' option (or any other sport) will take you to the football betting market 10Cric offers. When you get there, browse through the many events and leagues you see there to choose the one(s) you prefer.
Step 2: Choose Your League
After choosing your preferred sport, the next thing is to choose your event and league. Once you choose the sport, another window will open, showing all the current events and leagues you can bet on. For instance, if you have chosen "football," you will likely see FIFA or UEFA Championships.
Choose the event you're interested in betting on; you will see all the live matches available if there are any. You can also choose from the upcoming matches, which you will see alongside the live matches.
Step 3: Choose the Odds
When you see the list of live and upcoming matches, you will also see their respective odds. To place your wager, select the odds for the team you want to bet on; 10Cric will add these odds to your bet slip.
Meanwhile, you can add as many bets and odds on your bet slip as you want. With multiple odds, you will be able to place multiple bets at the same time, which will be controlled with one bet slip.
Step 4: Bet
The last step is betting; to do this, simply go to the 10Cric bet slip and finalize your bet. To finalize your bet, enter the amount of money you want to bet on the odds you have chosen. You will see a calculation of your possible winnings on the bet slip; if you're satisfied, click on "Place bet."
The bet slip is quite important for live and non-live bets. If you are betting on a live match, for instance, the bet slip lets you see all the cashout options for the match. Additionally, one bet slip can control as many bets as you place and all at once.
Does 10Cric Have Good Customer Service?
One of the factors we recommend to punters and casino players when choosing a betting site is customer support. The casino or betting site you choose has to be one with great customer support and that's always available.
10Cric puts as much effort as it does into its game offerings and its customer service. The betting site has contact information you can use, but you won't need it for simple and common questions.
If you have common questions concerning betting, slots, and the services 10Cric offers, you can check the FAQ section and help center. The FAQ section provides the common questions of Indian players with detailed answers and necessary instructions.
If your questions are not there, then, you can contact the customer support agent. 10Cric's customer support team is available 24/7, ready to help customers with their concerns and questions.
The only challenge is that the 10Cric website does not have a live chat option, which would have been the best. To contact 10Cric's customer care, you can only email them via their official email address. The good news is that they respond quickly and provide satisfactory answers.
However, calling them is most likely the fastest and most reliable way to contact 10Cric's customer service. We still hope that 10Cric will incorporate a live chat function into its website – after all, it has become an industry standard.
Is Cricket Betting on 10Cric Worth It?
10Cric understands the importance of cricket betting to the Indian betting populace and India as a whole. Thus, if you want great cricket betting options and an exhilarating betting experience, you can get it on 10Cric. Rest assured that you will find amazing cricket betting options, markets, and odds on the 10Cric betting site.
One of the major tournament betting options that 10Cric offers is the IPL, but it also offers local, lesser-known tournaments. Even within the popular leagues, there are all kinds of bets Indian punters can place, including top bowlers and individual player performance. 10Cric offers a cricket betting variety that is pretty hard to find on other betting sites.
Conclusion
10Cric is one of the best multifunctional betting sites for Indian punters and casino players. While the site is mostly all about cricket betting, it also offers high-quality betting options on other sports. Likewise, it devotes the same amount of quality and commitment to offering the best, most immersive casino games for casino lovers. Thus, if you are searching for your next betting site or online casino, 10Cric is definitely worth checking out.
10Cric has gone out of its way to ensure every Indian player, professional or amateur, has a fantastic and convenient experience. The long list of sports on which you can bet on 10Cric includes horse racing, cricket, and traditional Indian sports like kabaddi.
Apart from Indian games, 10Cric also offers you access to the international betting market. In other words, you can also bet on different international sports, like Europe's favorite sports, football and golf.
As far as depositing and withdrawing funds go, 10Cric has provided a streamlined payment procedure for Indian players. Since the site is India-based, it only accepts India's currency, and that means you can deposit through a local bank transfer. However, if you prefer other payment methods, say cryptocurrency, there's that, too.
FAQs
Is it possible to get a welcome bonus on 10Cric?
It is very possible to get a welcome bonus on 10Cric, provided you meet the terms and conditions. Every new Indian casino player or sports bettor gets an amazing welcome bonus when they sign up and make their first deposit. When you use the welcome bonus 10Cric offers, you can increase your bankroll, thus increasing your chances of making profits. 
Are Indian players welcome on the 10Cric betting site?
10Cric is majorly for Indian players, so Indian players are not just welcome; the site is for them. The site, as the name implies, is mostly focused on cricket betting, which is the most popular and favorite sport in India.
Thus, if you want to bet on cricket, football, horse racing, kabaddi, and a whole lot of sports, you can. Apart from sports betting, 10Cric also offers an amazing selection of casino games that casino lovers can play for real money.
What payment method is the best for Indian players on 10Cric?
The best and most preferred payment method offered by 10Cric for Indian players is through online bank transfer. It is fast and very secure – besides, if anything goes wrong, you have someone to complain to.
Apart from security, convenience is another big benefit of this deposit option; all you need is an Indian bank account. Moreover, since 10Cric is an Indian betting site, the only currency it accepts – Indian rupees.
Is KYC needed to create an account on 10Cric?
You don't need to complete a know-your-customer process of identity verification when signing up or betting on 10Cric. However, the site still requires that you verify your identity before you can withdraw anything from your account.
Hence, we recommend that you pay rapt attention to the personal information you provide when you sign up. This is essential as it ensures you can easily back the information up with your KYC documents like a PAN card or Aadhar Card.